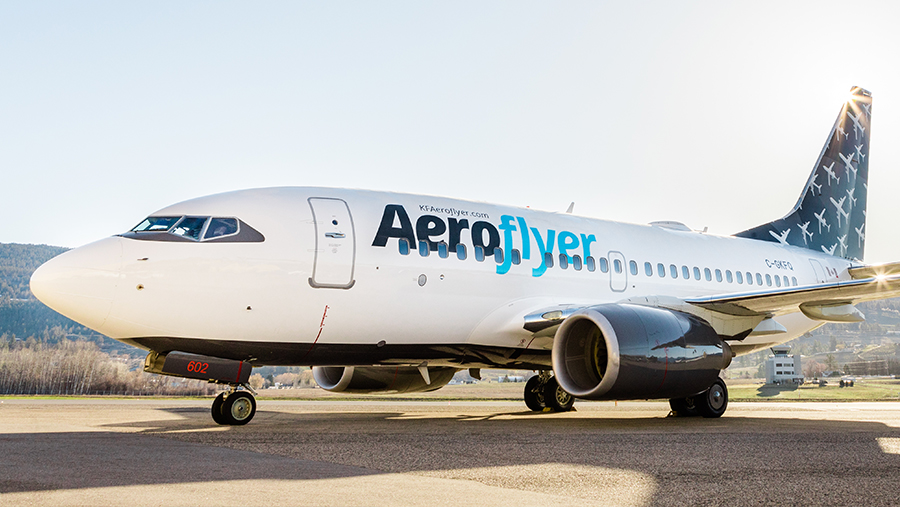 KF Aerospace launches Aeroflyer passenger charter service
The new charter airline will fly domestic and international passenger programs using a fleet of B737NG aircraft.
For Immediate Release
April 11, 2022 – KELOWNA — KF Aerospace is excited to introduce new passenger air charter services for the leisure, tourism and work force transportation markets. Based in Western Canada, Aeroflyer will provide domestic and international charter programs using a fleet of B737NG aircraft.
Aeroflyer is a new enterprise from KF Aerospace, Canada's largest commercial aircraft maintenance provider and an air operator with nearly 50 years of flying experience in passenger and cargo charters. The Aeroflyer Charter Operations Team brings an additional 40 years of expertise with charter aviation programs, offering customers objectivity, product knowledge and value.
The Aeroflyer fleet of B737NG aircraft provides narrow-body capability with superior reliability and operational efficiency, along with a full suite of on-board services including custom catering, and wireless in-flight entertainment powered by Bluebox Aviation Systems.
"We are proud to deliver a premium service dedicated to safety and reliability, backed by seamless support from KF's world-class aerospace engineering and maintenance divisions," says Chief Operating Officer, Gregg Evjen. "KF has provided flight operations continuously since 1974 with a high-level of reliability for passenger, cargo and VIP clients. Aeroflyer is a natural extension of this expertise that leverages our multifaceted capabilities. "
With aircraft currently based in Kelowna and Calgary, Aeroflyer will be positioning for growth beyond Western Canada. "In the coming months we plan to expand our fleet across the country to support national and international customers," says Aeroflyer Charter Operations Manager, Nick Samuel. "We're excited to provide the market with nimble, responsive and highly efficient charter solutions."
About KF Aeroflyer       
Getting you there safely and reliably.
KF Aeroflyer provides a suite of passenger air charter services dedicated to safety, on-time performance, reliability, and comfort. Operating a fleet of B737NG aircraft, Aeroflyer provides domestic and international charter services. Brought to you by KF Aerospace, a Canadian aviation pioneer with nearly 50 years of flying experience in passenger and cargo charters. To learn more visit www.kfaeroflyer.com
About KF Aerospace
We're all about 
THE CRAFT

.
For 52 years, KF Aerospace has delivered innovative aircraft solutions for corporate, commercial and military customers worldwide—including OEM's like Boeing; major airlines like WestJet, Sunwing, Cargojet, Lynden Air Cargo and Icelandair; and the RCAF. From humble roots in the Okanagan Valley, KF has grown to specialize in aircraft maintenance and modifications, military aircrew training, air operations and leasing—with the same commitment to quality and service established by its founder in 1970. With facilities across Canada, KF is home to nearly 1,000 highly skilled employees.
KF has logged over 1 million trips using a fleet of regional, narrow, and widebody aircraft, maintaining a 99% on-time performance, servicing North American and International locations. KF was the first airline to operate the 737NG's in Canada and has a significant history of passenger operations and milestone achievements in Canadian aviation.
To learn more visit www.kfaero.com
For media inquiries, please contact:
Nick Samuel
Charter Operations Manager
For charter inquiries, please contact